The Great Write Inn
*A school for writers*
Be the writer
you've always wanted to be


Our Masterclasses are taught by well known authors and experts.
Created for writers who enjoy learning @Home or in small groups.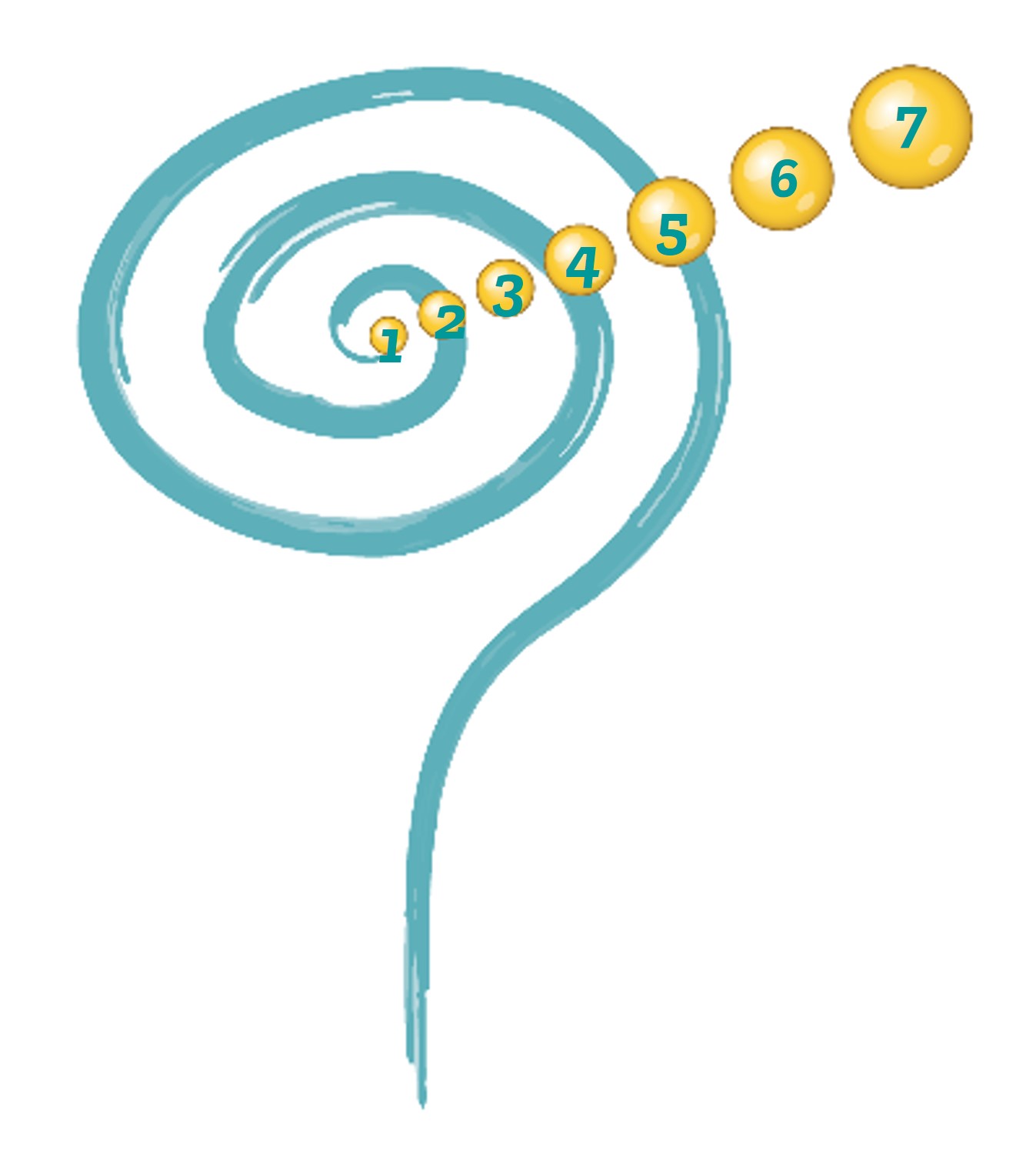 Follow our
Seven Step Process


Learn how to take your idea all the way through to a published story.
Who?

Where?

Why?

How? Writing well

Editing and Editors

Formatting and publication

Sales and Marketing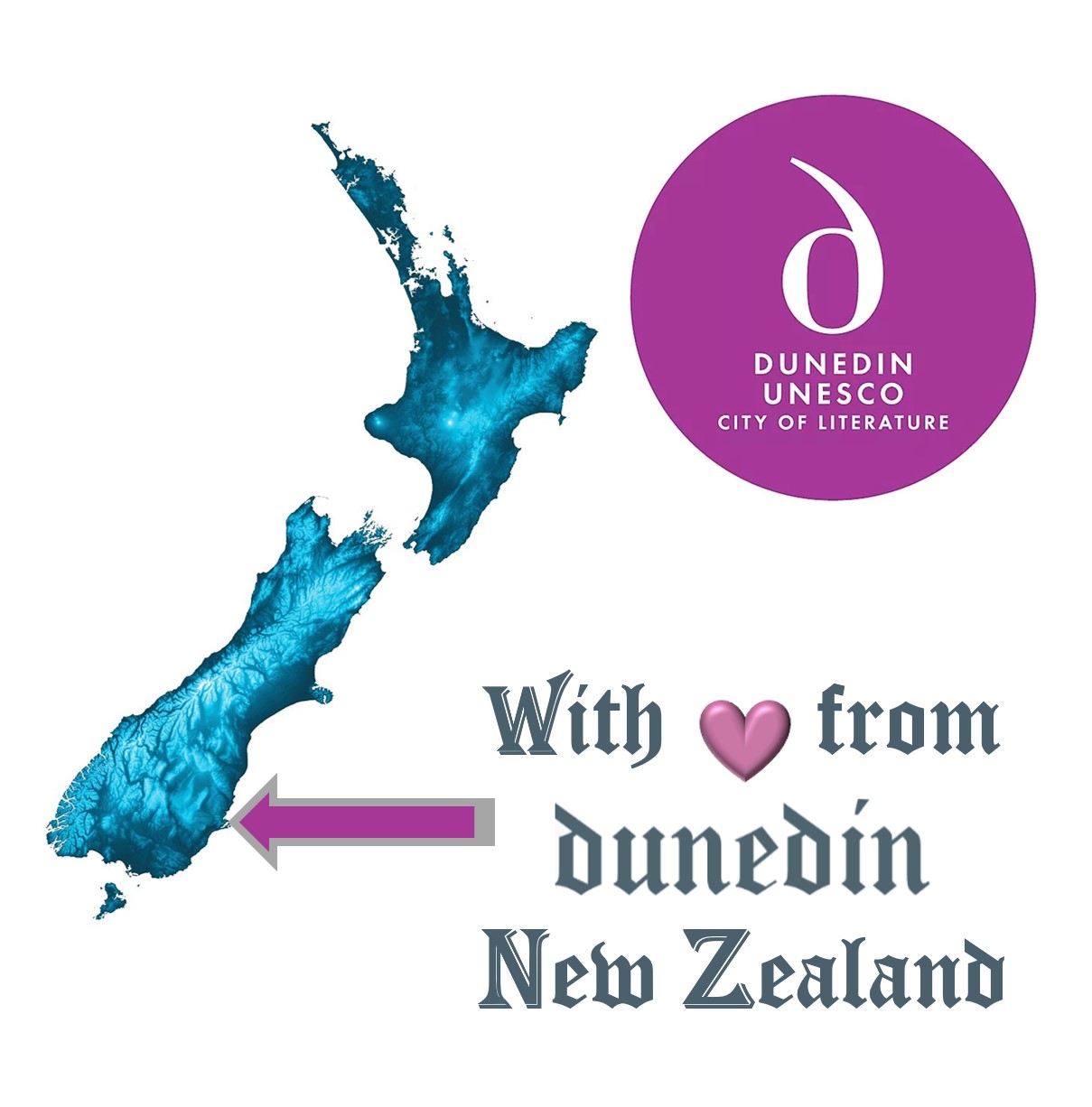 By writers for writers
Dunedin is New Zealand's only
UNESCO City of Literature.
Home to a vibrant writer's community - our community of experts has joined forces to help you on your writer's journey.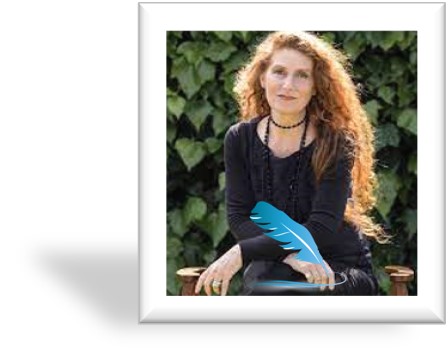 Taught by seasoned professionals
The Great Write Inn school brings together some of New Zealand's most awarded and talented literary talent, authors, publishers, marketers and booksellers.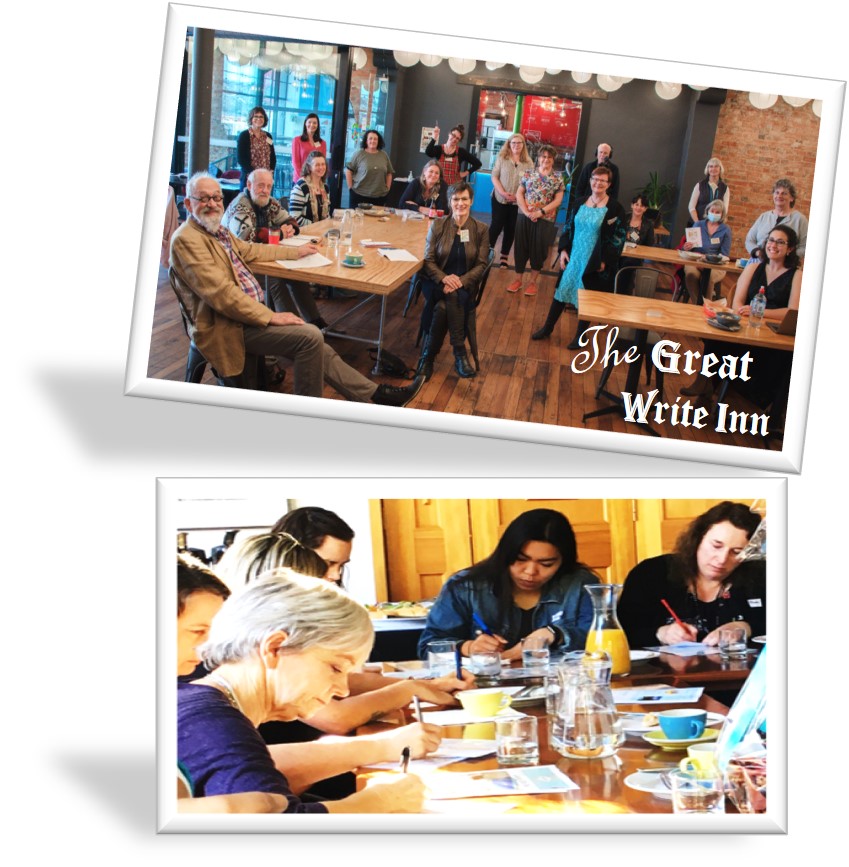 Find your tribe
All genres and genders welcome.
Join our community and find your tribe.
We meet on-line at our monthly Wee Write Inns.
Covid-dependent: we also meet in small groups at our Wee Write Aways (retreats for 2 - 6 people) or the Great Write Away (themed annual retreat).
Choose The Great Write Inn (steps 1 - 4)
or PublishME (steps 5 - 7)
We have two courses to choose from depending upon what you need.
Or if you'd like to spend time with one of our tutors, immerse yourself in the craft and grab The Writer's Bundle which includes nearly 30 hours of training plus coaching.
Click to view course curriculum and to go through to our one-step enrolment.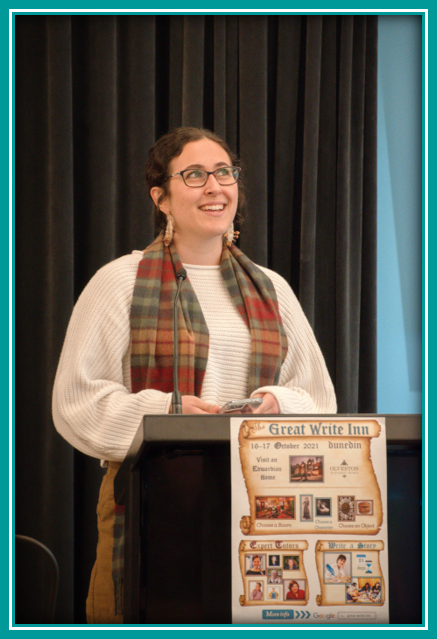 Meet Gracie Mackenzie
Completed The Great Write Inn
October 2021
Followed our Create a Character, Choose a Room, Involve an Object Formula and wrote a Short Story.
Short Story Title: If I'm May
 Character

: May, 15 year old house maid

 Room: 

Moroccan Room

 Object

: Octagon table with arabic inscription.
EDITOR'S COMMENTS: The strong narrative drive combined with a satisfying ending make If I'm May an excellent read and a wonderful addition to our One Home, Many Stories collection. Well done Gracie!
GRACIE'S COMMENTS: "It's been incredible. On so many levels: to meet the other writers and learning so much from the tutors.
I can't thank you enough."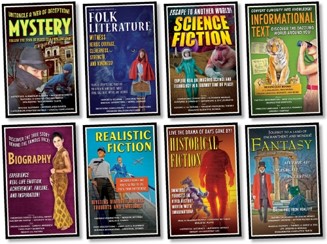 We're genre and gender friendly!
All of our course material is genre-friendly.
We've already had a range of short stories submitted:
Thriller
Romance
Dystopian
Poetry
Creative non-fiction
And others
All writers welcome - please join us!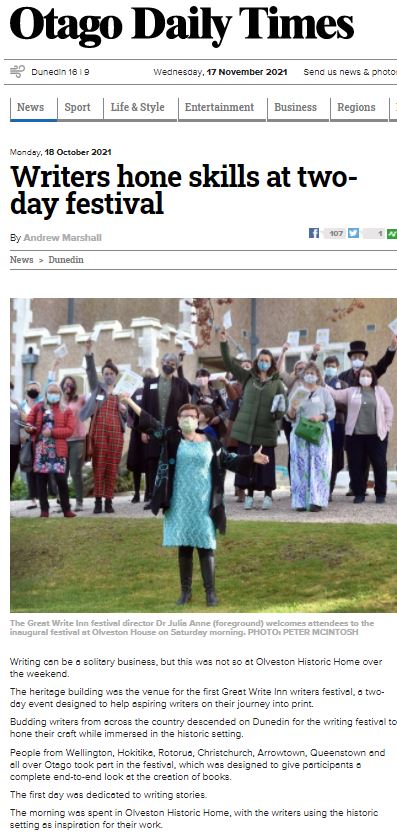 New Writer's Festival a success
Budding writers from across the country descended on Dunedin for the writing festival to hone their craft while immersed in the historic setting.
People from Wellington, Hokitika, Rotorua, Christchurch, Arrowtown, Queenstown and all over Otago took part in the festival, which was designed to give participants a complete end-to-end look at the creation of books.
The first day was dedicated to writing stories.
The morning was spent in Olveston Historic Home, with the writers using the historic setting as inspiration for their work.
Inspired by the board game Cluedo, they were challenged to choose a room of the house, create a character, and select an object from the house, and use these three elements in a new story.
In the afternoon they retired to the Lantern Room at Petridish Creative Space for the titular Great Write Inn, designed to replicate a "writer-in-residence" experience and let attendees get started on their new stories in earnest.
The second day focused on what to do after a story was written, with sessions focusing on topics such as editing, formatting, publishing and marketing of books.
The weekend was peppered throughout with classes, workshops and talks.
Tutors on hand included New Zealand novelists Catherine Chidgey, Fiona Farrell and Diane Brown.
Festival director Dr Julia Anne said the event had gone better than she had hoped when she first conceived of the concept.
"When you have an idea for an event in your imagination, and then you live and breathe it and it comes to life in a way that's beyond my expectations."
Alert Level 2 restrictions meant the event ran at a reduced capacity, but the lower numbers had only served to boost the camaraderie of the writer group and build the sense of community among them.
There was a great diversity of writing genres being attempted, with historical fiction, poetry, thriller, horror, and creative non-fiction all in the mix.
After the festival writers have three weeks to complete and polish their stories, and the work will be collated into an anthology titled One Home, Many Stories.
Check your inbox to confirm your subscription
Choose The Great Write Inn (steps 1 - 4) or PublishME (steps 5 - 7)
We have two courses to choose from depending upon what you need.
Or save money and grab The Writer's Bundle.
Thank you to our Major Funders, Principal partners and preferred suppliers
The Great Write Inn Live Event held in Dunedin in October 2021.
We filmed the Masterclasses so we could share them with you.
This was generously supported by the following individuals and organisations.